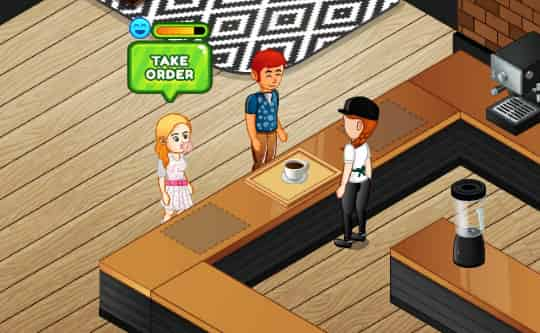 Cafe Panic
Café Panic is a brilliant game of café management. In this title you must become a successful barista within a popular coffee shop and try to manage the customer orders and keep everyone satisfied! As each customer enters your shop, you must take their order – pay attention and don't get it wrong as this will affect their satisfaction and also your tip! Be sure to complete orders quickly too otherwise customers will become impatient.
As you progress and build up a reputation you can unlock new items to serve your customers with – your orders will become more challenging but you will also have more fun! When you get to a certain stage, you can even unlock new coffee shops around the world! Have fun trying your hand at managing a coffee shop and see if you have what it takes to be successful!
Release Date
Released as mobile apps on December 2017 and from January 2018 can be played online.
Developer
Cafe Panic was made by Boomware Technologies.
Also Known As Cafe Panic: Cooking Restaurant Features

You can play either as a male or female character
Many levels to be completed, including bonus levels
Upgradeable stuff and character
Unlock more shops around the world
Stamina system

Platforms Controls Left click to choose an action.