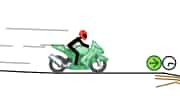 Paper Racer
Paper Racer is a fantastic and unusual racing game in which you must ride a motorbike through a series of different tracks and challenges. What makes this game unusual is that the graphics are all hand drawn and appear as if you are racing through a coloring book. To start with, you can enter the career mode and take the tutorials to get used to the game mechanics – the tutorials will show you how to control the bike, and the different elemental affects you will encounter such as gravity changes, guns, bombs and loops.
Once you have completed the tutorial, you can continue with the career mode and try to complete each level. The gameplay is fantastic but challenging, and the different obstacles and gameplay variety is superb. Aside from the career mode, you can also go head to head against other players, design your own tracks and purchase different vehicles and avatars from the store. Jump into the world of paper racing today!
Features
Lots of tracks to play
Each track has unique hand-drawing design and vehicle
Level editor to create your own track
Developer
Paper Racer is developed by Nikita Shimin from Ukraine.
Platforms
Web browser (desktop and mobile).
Controls
Up arrow to move forward
Left and right arrow to tilt
Z or space bar to turn around