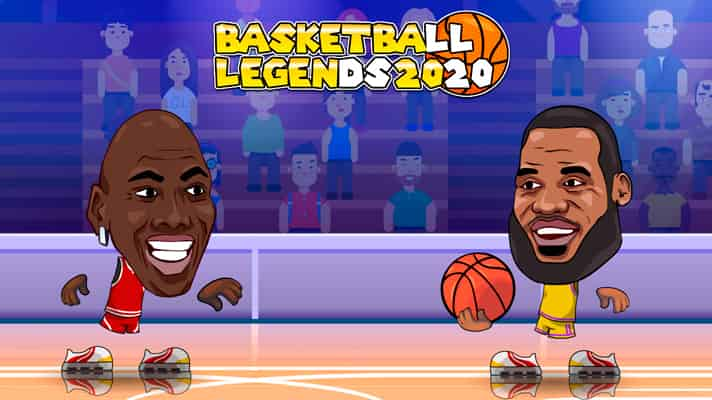 Basketball Legends 2020
Basketball Legends 2020 is a popular game Basketball games. This 2-player basketball game lets you play as iconic basketball players like James Harden, Luka Doncic, and LeBron James in bobblehead form!
Become a Basketball Legend
Play solo or with another
Join a friend in 2-player mode or play solo in Basketball Legends 2020! The AI characters put up a good challenge if you're solo.
Unique teams and abilities
You can play 1vs1 or 2vs2 matches with a range of cartoon basketball players. Choose a basketball team that represents your state, or one that you support. Each team player in the team has a unique ability.
Various game modes
You can play full tournaments, and if you're looking for quick game of b-ball, quick play mode has you covered. Train your skills in training and random matches!
Classic basketball moves
Basketball Legends stays true to the spirit of basketball, with three-pointers, alley-oops, and epic slam dunks that score you impressive points. Dash around and do epic jump shots to keep your opponent on their toes.
About This Game
Basketball Legends 2020 is the perfect game for basketball fans who want to play free basketball games in their web browser. You can play the game here at CrazyGames for free on desktop and mobile devices! It was developed by MadPuffers who also made the popular motorbike game, Moto X3M.
Release Date
September 2020
Developer
MadPuffers developed Basketball Legends 2020.
Platform
Web browser
1 player controls
AD or left and right arrow keys to move
X/L to shoot/steal
S to pump/block
A+A or D+D or left/right arrow twice to dash
K/Z to super shot
2 player controls
To move, player 1 use AD and player 2 use left and right arrow keys
To shoot/steal, player 1 use B and player 2 use L
To pump, player 1 use S and player 2 use down arrow
To dash, player 1 use A/D twice and player 2 use left/right arrow twice
K to super shot