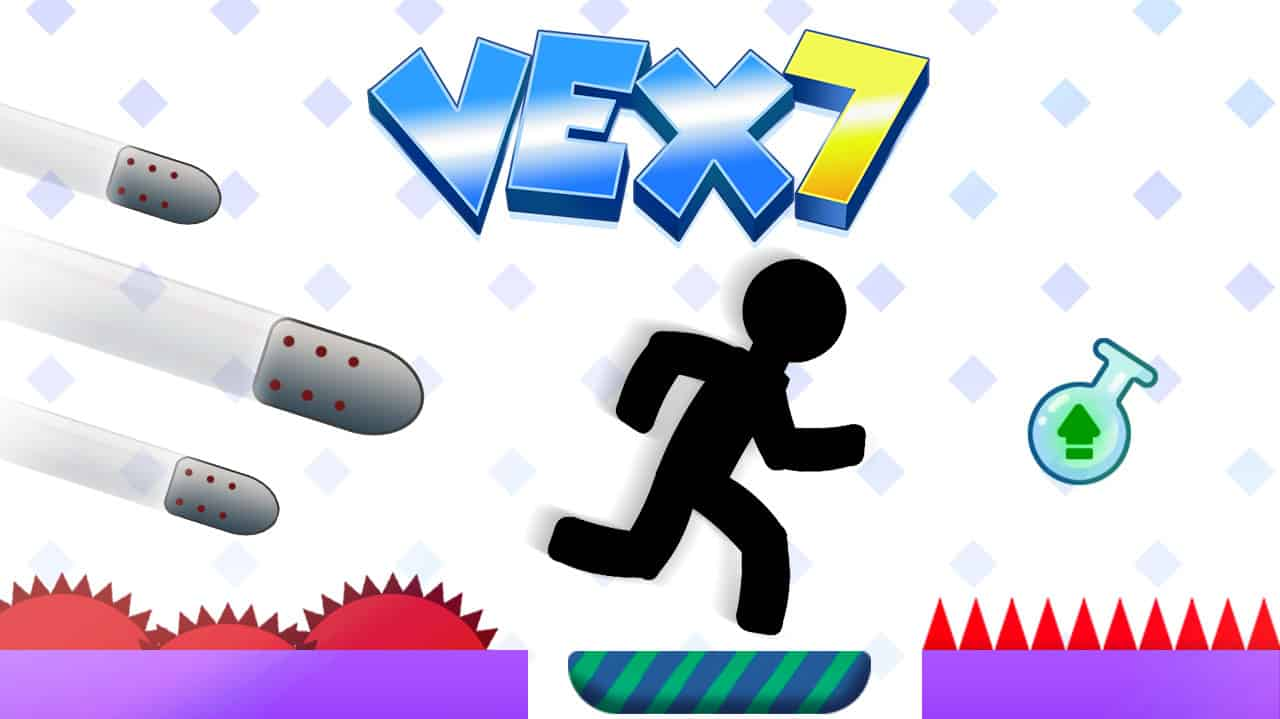 Vex 7
Vex 7 is here with deadly new adventures, tools, and traps. As usual for the Vex series, navigate through a labyrinth of tricks and traps to make it to the end! Utilize new mechanics to beat the puzzles in this seventh chapter.
Our Review
"Vex is back for another punishing installment of frustration and fun. You'll sigh with relief when you finally get over a tricky section, but you'll feel like a ninja when you're flying around with the grapple hook bouncing from wall to wall. There are new challenges and some new mechanics, but it isn't a giant leap from Vex 6. Overall it's a great addition to the Vex series" - CrazyGames Editor.
How to Play Vex 7
Survive the maze of death
Like all the Vex platformers, you will be repeatedly slashed, splatted, and decapitated by various contraptions. This demoralization is a rite of passage for newbies to the Vex series, but eventually, you'll figure out how to master the controls, timing, and technique required to be a Vex master.
Use your skills for extra rewards
There are rewards to earn for meeting certain conditions on each level. These conditions include not dying once (good luck), collecting a specified quantity of gold coins, and other assignments. There are various achievements to acquire, which you'll find in the trophies section.
Test your intuition in the tower
You can enter the tower at any time, a continuous bonus stage that delivers tower coins, and changes each time you enter. There are unique achievements in your trophy cabinet for tower milestones.
Earn daily bonuses for your loyalty
Come back for more rewards! Vex 7 has daily tasks for its loyal fanbase, each delivering a handsome reward for your continued commitment to dying repeatedly.
Upgrade your Vex guy
You can use your precious Vex coins and bonus stars to buy funky new skins for your Vex character. There are various fabulous costumes of differing rarity to unlock in the skins shop.
More Games Like This
Do you like a challenge? Try OvO for more tricky parkour platform challenges. Another difficult platformer is Geometry Dash Online. For many more skill-based games, check out our parkour and skill games.
Vex 7 Tips
Use parachutes, grappling hooks, TNT, and elixir to fly for longer distances
When asked "Are you okay?" answer "no" for brief invincibility
Master the controls - succeeding in Vex is all about the finer details
If you're getting frustrated - slow down and take a deep breath!
Release Date
October 2022
Platform
Web browser (desktop and mobile)
Controls
Use WASD or arrow keys to move.