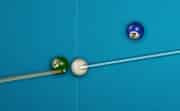 8 Ball Pool (Multiplayer)
8 Ball Pool is the most popular multiplayer pool game online. There are thousands of active users to play against at any moment. You can play 8 Ball Pool without signing up. However, signing up will give you more options. Chalk up and start potting today!
How to Play
Play pool online
Login or click 'play as guest' to be matched instantly with another 8 Ball Pool player. One player will break. If the breaker doesn't pot a ball, the aim for both players is to pot any ball to determine whether they are spots or stripes. The game ends when one player pots all of their balls, with the black 8 ball coming last.
Login for more rewards
Sign up to save your progress and earn rewards. With a player account, you can level up and earn pool coins to spend on new cues and cloths in the shop. You'll also be part of a globally ranked pool of players that you can climb by beating more players and improving your game.
What game modes are available in 8 Ball Pool?
This amazing 8 ball pool game has a variety of different game modes. Each mode offers something different and gives players the chance to win pool coins. Game modes available include:
1on1
9 Ball Pool
Minigames
Play with friends
Offline practice
Furthermore, the customizable features within the game include choosing different arenas to play in. Each arena has a different prize pool with London Pub being the cheapest and Venice being the most expensive.
More Games Like This
If you're looking to play a game of pool online, 8 Ball Pool from Miniclip is one of the best. However, there are others, like 8 Ball Billiards Classic and Pool Club. You can even play pool in 3D in Billiards Pool 8.
Features
The most popular online pool game
Play in various locations around the world
Buy new cues with improved statistics
Realistic physics and sleek graphics
Also Known As
Miniclip Pool
Release Date
October 2010
Platform
This game is available primarily as a browser-based game, but mobile versions also exist that can be found on the Apple Store and Google Play store.