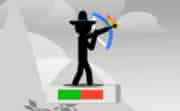 Stickman Archer 2
Stickman Archer is a classic stickman game in which you must fight in a never-ending battle of deadly archery. You control stickman, and stickman wishes to show off his archery skills – you must fight against wave after wave of other stickmen and try to kill them with precise shots from your bow. The controls are simple – you must drag back your bow, use your mouse to aim and release to shoot.
Headshots earn extras money and kill your enemies in one shot; body shots require two hits and earn less cash so try to aim carefully! As you progress and kill more stickmen, the platforms change location and appear randomly – this will keep you guessing and make you re-adjust your aim frequently. With the money you earn you can unlock new characters and level backgrounds to add extra variety to the game. How many headshots can you score in a row? Can you defeat wave after wave of enemies with accuracy and skill?
Controls
Drag or click left mouse button to shoot.